'Help needed' for people suffering from skin conditions
5 July 2012

From the section

Health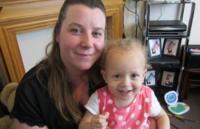 The government should provide more funding for services to help people with skin conditions, says a new report.
Around half of the population of the UK will have some form of skin problem every year.
The most common conditions include acne, eczema and psoriasis.
Dermatologists say long-term problems often cause stress which can affect peoples' relationships, work and social life.
Rachel Marsh, who's a mum of one from Lincolnshire, has Hidradenitis (HS).
"I'm in pain every day and sometimes I find it difficult to look after my daughter because she's so active," she said.
"It's easy to turn into a social recluse.
"I often avoid going out in public because I'm conscious of the wounds and scarring I have from the HS."
'Self-esteem'
The research from the British Association of Dermatologists (Bad) found that specialist services to deal with the psychological effects are poor.
There are seven dedicated psychodermatology departments in the UK.
Tony Bewley, a dermatologist and Bad spokesman, said: "Having a skin condition can really affect your confidence and self-esteem.
"Eighty-five per cent of our patients are worried about the impact it can have on their mental health."
The government says even though it recognises some skin conditions can be complex, GPs are responsible for making referrals.
However, with only a limited number of services, some patients can't afford to travel long distances for help.
A spokesperson for the Department of Health said: "Local doctors know what services their patients' need, which is why the new health care system puts family doctors in the driving seat."
'Increase awareness'
In 2003, Bad published a similar report recommending more specialist services for patients.
Since then, two more psychodermatology services have stopped running taking the number from nine to seven in the UK.
The group is now worried more psychodermatology departments could close as the government plans changes to the NHS in England.
"The government's not off the hook here," said Tony Bewley.
"It needs to make sure adequate resources are provided at a national and regional level.
"This is important for our patients' psychological well-being."
Rachel thinks that's a worry.
She said: "The government needs to provide more services to increase awareness and get rid of stigmas."