Frank Ocean opens up about his sexuality on Tumblr
4 July 2012

From the section

Music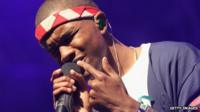 US R&B singer Frank Ocean has written that his first love was a man.
In a post on microblogging site Tumblr, the star, who came second in the BBC Sound of 2012, said he wanted to "address rumours" about his sexuality.
In his introduction, the 24-year-old wrote: "What I'm about to post is for anyone who cares to read.
"It was intended to fill the thank you's section in my album credits, but with all the rumours going round I figured it'd be good to clarify."
Ocean, who's from New Orleans, moved to Los Angeles when he was 18 after Hurricane Katrina.
His recording studio had been destroyed by the storm and his equipment stolen by looters.
After arriving in California, he started writing tracks for the likes of Justin Bieber and John Legend before joining hip hop collective Odd Future.
'No escaping'
In his Tumblr post, Ocean said he had planned to write about his sexuality in the liner notes for his second album, Channel Orange.
"Four summers ago, I met somebody," he said. "I was 19 years old. He was too.
"We spent that summer, and the summer after, together. Everyday almost. And on the days we were together, time would glide.
"Most of the day I'd see him, and his smile. Sleep I would often share with him.
"By the time I realised I was in love, it was malignant. It was hopeless.
"There was no escaping, no negotiating to the women I had been with, the ones I cared for and thought I was in love with."
Ocean recently sang backing vocals for the Jay-Z and Kanye West collaboration Watch The Throne.
In his Tumblr entry he explained how his music had helped him cope.
He ended it saying: "I know I'm only brave because you were first. So thank you. All of you. For everything good.
"I feel like a free man. If I listen closely I can hear the sky falling too."
Ocean's letter may raise some eyebrows with critics of the Odd Future collective, who claim some of the hip hop outfit's lyrics are homophobic.
Channel Orange is due for release on 17 July.
The singer, who supported Coldplay in Europe earlier this year, will also appear at Bestival on the Isle of Wight this September.