Katy Perry doesn't know if Russell Brand saw her film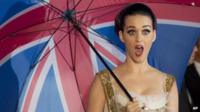 Katy Perry admits she doesn't know if Russell Brand has seen her debut feature film, which depicts the effect their break-up had on her.
The singer had cameras following her throughout 2011 for Katy Perry: Part of Me 3D, which focuses on her life on tour.
But the timing meant it also captured how her relationship with Brand fell apart.
The couple married in India in 2010 and Brand filed for divorce in December.
"I don't know if he's seen it," Perry admitted. "But he knew the cameras were always around."
In one uncomfortable scene late on in the film, Perry is shown clutching a necklace Brand gave her as she sobs uncontrollably just ahead of a concert in Brazil.
"I think life in general can just be a bit tough every once in a while," the 27-year-old admitted on the pink carpet for the film's European premiere.
'Happy ending'
In the movie, Katy Perry is also seen reflecting on wanting to have children in the future.
She recalls a conversation where she wonders whether it's possible to have a successful career and and a successful relationship without one of them suffering.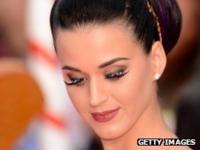 Perry recently equalled Michael Jackson's US record for having five number one singles from one album and says she still believes in fairytales.
"I have my happy ending, I got it for myself," said the singer.
She said she was thinking about taking an extended break to recover from the toll her 2011 world tour clearly took on her.
"I'm just going to do it to recharge so that I actually have something worth saying for the next record," she said.
"But if you saw the movie you would know that I do like to have a lot of fun and if I'm not having fun I don't like to do it."
So is Perry already looking ahead to a sequel?
"Yes, the sequel is Katy at Home Sleeping. Very boring."
Katy Perry: Part of Me 3D is released in UK cinemas on 5 July