Tom Cruise will file divorce case, says his lawyer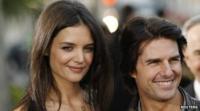 Tom Cruise's lawyer says his client will file a rival divorce case but will not reveal where.
Bert Fields also revealed he's allowing Katie Holmes' legal team to "play the media" before allowing Cruise to tell his side of the marriage breakdown.
It's after the actress issued a statement last week announcing her intention to divorce Tom Cruise.
The 50-year-old actor issued a statement of his own saying he was "deeply saddened" by the news.
The couple have a six-year-old daughter, Suri.
"Tactically we can't say where Tom will file a divorce case and if he'll be seeking joint custody of Suri," said Mr Fields.
Irreconcilable differences
Fields said that Tom Cruise was "very sad" about the breakdown of his five-year marriage.
"We are letting 'the other side' (Katie and her team), play the media until they wear everyone out and then we'll have something to say.
"It's not Tom's style to do this publicly. He is really sad about what's happening."
TMZ News has reported that Holmes filed divorce papers in New York last Thursday (28 June) citing irreconcilable differences and that she was seeking sole custody of their daughter.
There has been speculation that the Mission Impossible star would be filing a counter divorce case in Los Angeles and would be seeking to have joint custody of Suri, but Mr Fields would not confirm that.
Cruise married Holmes, 33 - his third wife - in an Italian castle in November 2006.
He was reported to be in Iceland shooting an upcoming film called Oblivion. He also starred in the recently released Rock Of Ages.
It has been confirmed that Katie Holmes has left her former publicist and will star alongside Gossip Girl's Chace Crawford in the upcoming film Responsible Adults.
It starts filming later this year.