US Inbetweeners film to be made, according to reports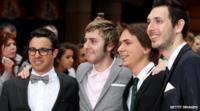 A US film version of The Inbetweeners is to be made, according to reports on several Hollywood trade magazine websites.
Paramount Pictures is said to want Iain Morris, who created the original series with Damon Beesley for E4, to write and direct the new movie.
It is unclear if the cast of the US TV series will also star in the new film version, as happened in the UK.
The American version of the television show starts on MTV on Monday 20 August.
The US series stars Joey Pollari as Will McKenzie, Bubba Lewis as Simon Cooper, Zack Pearlman as Jay Cartwright and Mark L. Young as Neil Sutherland.
It follows the lives of four high school students who live in suburban America.
The pilot was directed by Flight of the Conchords' Taika Waititi.
A pilot for a US version of The Inbetweeners was first commissioned by ABC in 2008 but was not picked up by the TV network.
Meanwhile, the UK film version of The Inbetweeners is due to be released in the US on 7 September.
The movie, which cost around £3.5m to make, grossed more than £45m at the box office worldwide last year making it the most successful British comedy to date.