Vampire series True Blood is renewed for sixth season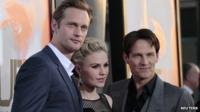 True Blood will return for a sixth series after US cable network HBO confirmed it was renewing the show.
The programme is shown on the FX digital channel in the UK and follows a group of vampires who live among humans in fictional Bon Temps, Louisiana.
The American TV network would not reveal when the new series would air or any storyline changes.
True Blood has won a host of awards including a Golden Globe in 2008 and two Emmys the following year.
Lead actors in the series Anna Paquin (Sookie Stackhouse) and Brit Stephen Moyer (vampire Bill Compton) married in 2010 and the pair are expecting their first child together.
Moyer, 42, has two children from a previous relationship.
HBO has also renewed its latest high-profile drama The Newsroom, which starts on Sky Atlantic on 10 July.
The Newsroom was created by writer Aaron Sorkin, who was behind Facebook film The Social Network.
It stars Jeff Daniels as a cynical, middle-aged TV anchorman who, along with his producer ex-girlfriend (Emily Mortimer), tries to shake up his nightly show by bringing back real journalism.
The programme has earned mixed reviews so far in the States.
Website metacritic, which compiles critiques of TV shows, movies and music, gave the programme a score of 57 out of 100, based on 31 reviews.
But a "user score" generated by fans making comments on the website was much higher at 8.6 out of 10.