Adele's 21 is biggest-selling album of 2012 so far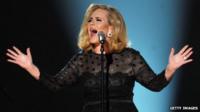 Adele's second album 21 is the biggest UK-selling album of 2012 so far, according to data from the Official Charts Company.
The record has sold 596,000 copies this year and more than four million since its release in January 2011.
Adele leads an all-female top three in the 2012 album chart.
Emeli Sande's Our Version Of Events (532,000) is in second place with Lana Del Rey's Born To Die (482,000) in third spot.
In May, Adele's 21 became the UK's fifth biggest-selling album of all time, overtaking Pink Floyd's The Dark Side Of The Moon, Dire Straits' Brothers In Arms and Michael Jackson's Bad and Thriller.
Adele's first album, 19, is the 15th biggest-selling album this year.
The singer announced that was pregnant with her first child last week.
The 24-year-old said she and her partner Simon Konecki were "delighted to announce" that they were expecting in a message on her website.
The figures have been published by the British music industry's trade body, The BPI, in its 2012 half-year report.
The 20 biggest-selling albums of 2012 so far are:
1. Adele - 21
2. Emeli Sande - Our Version of Events
3. Lana Del Rey - Born to Die
4. Ed Sheeran - +
5. Coldplay - Mylo Xyloto
6. Jessie J - Who You Are
7. David Guetta - Nothing but the Beat
8. Bruno Mars - Doo-Wops & Hooligans
9. Olly Murs - In Case you Didn't Know
10. Rihanna - Talk That Talk
11. Gotye - Making Mirrors
12. Military Wives- In My Dreams
13. Rizzle Kicks - Stereo Typical
14. Bruce Springsteen - Wrecking Ball
15. Adele - 19
16. One Direction - Up All Night
17. Noel Gallagher's High Flying Birds - Debut
18. Maverick Sabre - Lonely are the Brave
19. Gary Barlow/Commonwealth Band - Sing
20. Rebecca Ferguson - Heaven