Newton Faulkner's new album was 'written for festivals'
3 July 2012

From the section

Music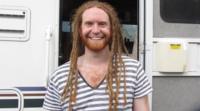 Singer/songwriter Newton Faulkner says upcoming album Write It On Your Skin was written especially "for festivals".
Speaking at Saturday's Cornbury Music Festival in Oxfordshire he said: "The first record was very much written in my room just for me.
"[But] this one has been very much written for festivals, as that's become my home over the last three years."
Newton's debut, Hand Built By Robots, went to number one in 2007 and his third album is out next week.
"I worked on this album for three years, which is an insanely long time to be focused on one task," said the Surrey-born musician.
"It's only now that I've stepped away from it as it's been finished for a little while but I think it might be the best thing I've ever done."
'Perfect blend'
The singer showcased songs from the album during his weekend set at Oxfordshire's Cornbury Music Festival.
He also performed hits like Dream Catch Me and Gone in the Morning to a packed crowd.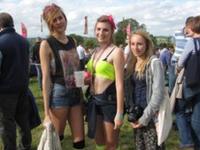 "I love festivals so much," said the 27-year-old. "I think it's the perfect blend of all the different types of gig that there are to do.
"There are elements of the support slot where people aren't there to see you and you can rope in new people.
"And there are elements of a headline gig where people are there to see you and there's a certain energy from that. It's really fun. I absolutely love it."
Aloe Blacc and Pixie Lott also appeared over the three-day event, which was attended by Prime Minister David Cameron and his family.
Stooshe were billed to perform on Saturday but had to cancel due to other work commitments.
Newton Faulkner's last album, Rebuilt by Humans, came out in 2009.
It got its name after his wrist was repaired using a metal plate after a holiday accident.
Newton Faulkner will be in the Live Lounge with Fearne Cotton on Radio 1 this Wednesday (4 July) from 10am.