Jay-Z and Kanye West share honours at BET Awards 2012
2 July 2012

From the section

Music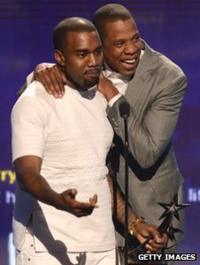 Jay-Z and Kanye West have won two prizes at this year's BET Awards in Los Angeles for their Watch The Throne collaboration.
The rappers were named best group and Otis was voted video of the year.
Chris Brown picked up the best male R&B artist award for the second year running while Nicki Minaj won in the female hip hop category.
Artists paid tribute to Whitney Houston with Mariah Carey sharing memories of the singer, who died in February.
"I miss my friend," she told the crowd. "I miss hearing her voice and laughter but we'll always have the music.
"We'll always have that voice we fell in love with, she inspired us all, we'll always have my friend Whitney Houston."
Whitney Houston's mother Cissy sang Bridge Over Troubled Water for her late daughter, leaving audience members like Beyonce and Soulja Boy in tears.
Tributes were also paid to Donna Summer, Dick Clark and Don Cornelius.
'My angel'
As well as winning two awards, Kanye West also performed at the event.
He sang Cold, a track about his relationship with reality TV star Kim Kardashian who sat in the front row at the ceremony with the star.
Beyonce, who won the award for best female R&B artist, thanked women in the genre who inspired her.
"I want to thank all of the talented R&B women that came before me, like Lauryn Hill and Mary J. Blige, and I want to dedicate this to Whitney Houston, my angel, I hope you all enjoy the show, God bless you."
Jay-Z got the biggest laugh of the night when he interrupted Kanye West during their acceptance speech for video of the year.
He said: "Excuse me Kanye, I'm going to let you continue but..." a reference to Kanye West interrupting Taylor Swift's acceptance speech at the 2009 MTV Video Music Awards.
Comedian Kevin Hart took best actor, edging out competition from Don Cheadle, Common, Idris Elba and Denzel Washington.
The annual BET Awards celebrate black musicians, actors and athletes, giving out awards in 20 categories at a show that airs on the cable TV network, BET, in America.
The event, which lasted more than three hours, was hosted by actor Samuel L. Jackson.