Young Farmers call for action over rural road deaths
Nineteen-year-old Tamsin Cook is looking through some of her brother Tristan's things.
Belts, photos, a hoodie - she says they help her remember him after he died in a car crash on a country road.
"This is his Rocawear hat he was very proud of," she says. "Here are some photos of his last holiday in Newquay."
It comes as a group of Young Farmers, representing 23,000 young people in rural areas in England and Wales, get set to hold talks with the government.
"It all reminds me of how real he was," says Tamsin. "He was a real person. These were his clothes."
Tristan was one of two passengers who died six years ago when a packed car hit a tree late at night outside Chester.
'Step up'
According to official figures, nearly two-thirds of all fatal crashes in England, Scotland and Wales happen on rural roads.
Most also involve young male drivers.
Now, the National Federation of Young Farmers' Clubs (NFYFC), representing thousands of people under 26 in England and Wales, are holding talks with the government's roads' minister.
"We really need to step up," says NFYFC vice-chair Milly Wastie.
She wants funding for a specific person in each county running rural driver training and hazard awareness courses.
She's also calling for specific targets for cutting rural road deaths.
"Everyone knows someone that's either a friend or a family member that has lost their life," she adds.
Road safety minister Mike Penning is behind the campaign.
He says: "We welcome the support of any group looking to improve road safety, especially those involving young people.
"Any road death or injury is a tragedy and I will continue to take urgent action to crack down on the most dangerous drivers while improving training to make our roads safer for everyone."
'Invincible'
Back in Chester, Tamsin is visiting the site of her brother's death for the first time in years.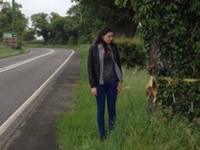 "There was a hedge here," she says. "The car hit a tree, went through the hedge and ended up upside down in the field."
The driver spent time in prison for dangerous driving.
The campaign group Brake says many people see the countryside as their own "personal race circuit", where they're free to drive as fast as they like.
Both Tamsin and Milly say that young men need to change their attitudes to rural driving so that more of them survive.
"My brother Tristan thought he was invincible," says Tamsin, "along with the other people involved, and along with most young boys.
"Not only are they putting themselves at risk," adds Milly, "they're also putting their mates at risk, as well as other road users."