Swedish House Mafia tell Pete Tong 'split feels right'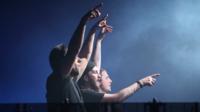 Swedish House Mafia say they are splitting up because they had taken the trio as far as they could.
Speaking to Radio 1's Pete Tong Steve Angello, one third of the DJ group, said it felt the "right thing" to do.
In just a few years, Angello, along with fellow producers Axwell and Sebastian Ingrosso, have become one of the biggest names in dance music.
The trio headlined the Dance Arena at Radio 1's Hackney Weekend, part of the London 2012 Festival.
Axwell admitted they had taken the group as far as they could.
"It's very easy to just stay content with the machine that is Swedish House Mafia," he said. "We've always been about challenging ourselves and doing unexpected things.
"Maybe it's time to do something different now. We didn't want to end up repeating ourselves."
'We raved'
They broke the news on their website, co-signing a statement which read: "We came, we raved, we loved."
Their final UK concert will be at Milton Keynes Bowl on 14 July but more worldwide dates, including the time and place of their final gig, will be announced in August.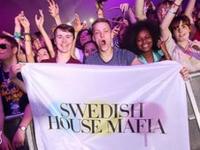 "We're gonna go out with a bang," said Steve Angello. "We see this as the end of an amazing journey we've done as friends."
The band, along with DJs such as Calvin Harris and David Guetta, have helped elevate the commercial appeal of live dance music.
Tinie Tempah, who recorded the hit single Miami 2 Ibiza with the trio, said the news about their split was "such a shame".
He said: "Dance music has been going on for a very long time but, in this sort of new wave, they came together to create something that was really incredible.
"All the guys are talented geniuses. Within their own rights, they're great artists and producers. I wish them all the best of luck."
The full interview with Swedish House Mafia will be on Pete Tong's Radio 1 show at 9pm on Friday 29 June