Rihanna left 'roaming streets' after London hotel fire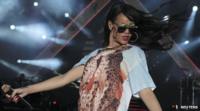 Rihanna was made to evacuate her central London hotel this morning (26 June) after a small fire.
The singer was one of 300 guests who were asked to leave the building in Whitehall Place after a lift shaft caught fire.
The star tweeted: "Roamin da streets since 6am." A London Fire Brigade spokesman said no-one was hurt.
The 24-year-old headlined Radio 1's Hackney Weekend last Sunday (24 June) with Jay-Z appearing with her.
The spokesman said the fire caused a small amount of damage to a lift on the seventh floor of the hotel.
Around 10 firefighters arrived at the scene after being called at 6.22am.