Geordie Shore stars say they work hard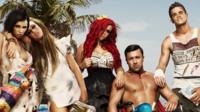 The stars of MTV's Geordie Shore say that they have a tough time getting recognition for their hard work.
The show sees nine young men and women living in a house together, partying their way around Newcastle.
After the first episode aired the cast were criticised for their behaviour.
But Ricci Guarnaccio, who joined the show for the second series, says there is more work behind the scenes than people realise.
"You're up late. You're travelling to the next city. And the only reason you go home now is to re-pack your bag and you're away again," he said. "Everyone sees the glam side. And how hard we all work, people don't notice."
His fiancée, Vicky Pattison added: "We didn't just walk in to series one and instantly become famous and get loads of money and get liked.
"We came out to find out that pretty much the whole of Newcastle hated us.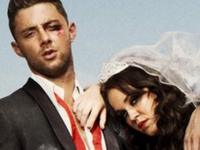 "We couldn't get into magazines. Nobody really wanted to talk to us. Money was tight because we didn't have ordinary jobs."
The cast make most of their living through personal appearances and their work outside of the programme.
"People think we get paid loads. The show doesn't pay us. You can't pay someone for getting drunk on TV," said Charlotte Crosby.
"We have to make our money travelling around every day once we get out the show. It is hard. You don't see your family," she added.
Now in its third series, the show has been one of MTV's biggest successes and the stars say they are starting to feel "socially accepted".
"Nobody wanted us to do anything and now, finally, we're getting to that level. I do feel like we all deserve to pat ourselves on the back. It's not conventional hard work in that sense but it's tiring," said Vicky.
And for anyone aspiring to follow in their footsteps, she has some advice: "It has taken ages. It has taken hard work. So it's not easy."
Series 3 of Geordie Shore starts on MTV at 10pm on 26 June.