Plan B slips onstage at Radio1's Hackney Weekend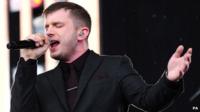 Rapper Plan B suffered a few spills on the stage at Radio 1's Hackney Weekend, as he played in the middle of a rainstorm.
The rapper slipped several times - but persevered with a set that included hits Stay Too Long and Ill Manors.
"God decided to open up the skies," he said about an hour after the show, "but we got through."
"I've been in a bit of a mood for a while, to be honest, but I'm getting over it now."
Jessie J, who played immediately afterwards, said: "I was up there watching Plan B. It's not easy up here on the stage when it's raining."
"I was very aware that I was in heels, I was like, 'just take your time, don't fall over.'"
Plan B, whose real name is Ben Drew, said there was "just enough rain" to stop his band from "jumping around and smashing up the stage as we usually do".
However, he managed to take down his guitarist, after jumping on his back towards the end of the set.
The rain cleared up after Plan B's performance, with blue skies over Hackney by mid-afternoon.
And despite the weather, the musician, who was brought up in east London, said he had enjoyed playing on home turf.
"For so long, this part of the city has been deprived. It's great to see stuff like this happening here, because the people deserve it."
Hackney Weekend, a free two-day event, is part of the London 2012 Festival. It is taking place in Hackney Marshes, in the shadow of the Olympic Stadium.