Swedish House Mafia are to split up after current tour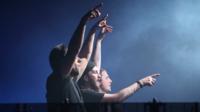 After four years together, Swedish House Mafia have announced they are splitting up.
The news came as the trio headlined the Dance Arena at Radio 1's Hackney Weekend, part of the London 2012 festival.
The group is made up of DJs and producers Axwell, Steve Angello and Sebastian Ingrosso.
Swedish House Mafia broke the news on their website.
Their final UK concert will be at Milton Keynes Bowl on 14 July but more worldwide dates - including the time and place of their final gig - will be announced in August.
They're due to play a gig on their home turf in Sweden on 24 November.
All three co-signed their online statement, saying, "We want to thank every single one of you that came with us on this journey," before signing off "we came, we raved, we loved".
Tinie Tempah, who recorded the hit single Miami 2 Ibiza with the trio, said the news was "such a shame".
"Dance music has been going on for a very long time but, in this sort of new wave, they came together to create something that was really incredible."
"All the guys are talented geniuses. Within their own rights, they're great artists and producers. I wish them all the best of luck."