Olympic hopeful Zoe Smith makes Team GB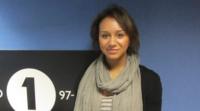 Teenager Zoe Smith is "over the moon" she has been selected to head a team of weightlifters for Team GB in the Olympics.
At just over five feet tall, Zoe will compete along with her five other team mates on 30 July.
The 18-year-old won a bronze medal at the 2010 Commonwealth Games when she was 16.
She was the youngest ever British weightlifter to qualify.
"I was over the moon when I found out I was going to be in Team GB. I did kind of expect it. But to have that burden lifted from my shoulders was great," said Zoe.
Weighing 9 stone 12 pounds she would beat a lot of grown men at back squats in the gym.
At her best she lifts 150 kilos - which is more than 23 stone.
Music motivates Britain's strongest female teenager.
"My competition song I listen to before I compete is Small Things by blink-182," she said.
When asked about going for an Olympic gold medal, Zoe replied: "Don't put any money on me winning. I'm probably the youngest and most inexperienced."
She is excited her first Olympics is in her home town, if she doesn't win this time: "Hopefully there will be the next time.
"Sometimes my mind runs away and I think, 'What would it be like to stand on the podium and get a gold?'. It's quite a nice feeling. I wouldn't mind that one-day."