Safety 'key' at Radio 1's Hackney Weekend in east London
22 June 2012

From the section

Music
Police and organisers have said security at Radio 1's Hackney Weekend is "key" and that they've taken "every precaution" to ensure the people on site are safe.
The two-day event, which is part of the London 2012 Festival, is being held at Hackney Marshes in east London.
Hackney was involved in the 2011 London riots and parts of the borough are known for having gang-related problems.
Extra safety measures have been brought in for this weekend's event.
Huge event
It is the biggest live event organised by BBC Radio 1 in its 44-year history and more than twice the size of the network's annual Big Weekends.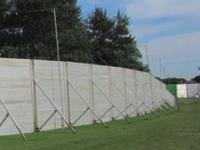 It'll see 100,000 people who applied for free tickets watch more than 100 artists, including Jay-Z, Rihanna and Ed Sheeran, perform across six stages.
Attendees will go through ticket checks, bag searches and metal detectors as they arrive at the event, which is being staged on a green space ordinarily used as football and rugby pitches.
Organisers are advising ticket holders to allow at least two hours to get in. Gates open at 10.30am with the first acts taking to the stage at 1pm.
The event has also been enclosed by two security barriers - one of which is a 12-foot tall steel "super-fence" borrowed from Glastonbury (which is not on this year).
Inside, more than 1,200 security workers will be managing crowds.
The event has also employed a similar ticketing system to Glastonbury with photos of festival-goers printed on their tickets.
'Completely safe'
Jason Carter, the BBC's event director for Hackney Weekend, said: "The one thing the BBC absolutely wanted to do is make sure that every single person that walks through the gates felt completely safe and secure.
"We have really not compromised in any way in terms of the security of the show."
He said the reason Hackney was chosen to host the event was to "shine a positive spotlight" on the area and to make the local young people "feel proud of where they live".
Melvin Benn, director of Festival Republic which helped stage the weekend, said: "Hackney Council and the police have been unbelievable in trying to assist us in making it safe."
Chief Superintendent Richard Woolford said London's Metropolitan police had been working closely for "months" with organisers and local authorities to produce a "detailed plan" for the event.
He said: "Measures on site will be supported by a policing operation to identify people who may be coming there with the intention of causing problems.
"There will be some elements we'll be able to test and consider in relation to the Olympics.
"We are prepared for the Olympics and we are prepared for this event. We want them both to be safe and an environment people are going to enjoy."
Organisers have urged people who have tickets to the show to visit the BBC Radio 1 Hackney Weekend website for more information.