Egypt elections: Musicians worried about their freedom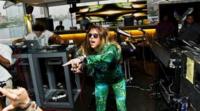 Being young, a musician, especially a female singer, was always going to be a challenge in Egypt.
"I've been thrown off stage for not wearing enough clothes," says 25-year-old Bosaina.
But something changed for her in January 2011.
"There was a sense of freedom," she says.
"Before the protests in Tahrir Square we were underground, wrapped up in the studio, but soon after that people were coming out and sharing their videos."
She works with DJ duo Hussein El Sherbini and Ismail Hosny, both 25, in the electronic pop band Wetrobots.
Their debut album Bang & Blow was recorded underground.
Influences include Justice, Daft Punk, The White Stripes and pop stars like Kylie and Britney.
Hussein says when President Hosni Mubarak was in power, for 30 years, it was difficult for artists to flourish.
"We have more freedom now. Back then you couldn't criticise Mubarak or the government. It was just unheard of really."
'Don't give up'
Hosni Mubarak fell from power in February 2011 after a public revolt.
He was sentenced to life in jail last month for his role in killing protesters during the uprising.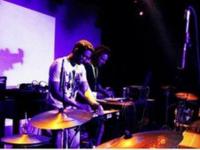 But in recent months uncertainty has gripped Egypt again.
The Supreme Council of the Armed Forces (Scaf) has assumed new powers while people wait to find out who the new president is.
"It's disappointing what's happening but I think it's important not to give up and just keep pushing for a better outcome," says Ishmail.
For Bosaina the revolution isn't amounting to what she expected.
"I feel like we're back to square one," she admits.
Many protesters have said Scaf's power bid is close to a military coup.
Some have returned to Tahrir Square to demonstrate against the military council.
Others say army rule may be better than the prospect of the Muslim Brotherhood, a Conservative Islamist Party which has claimed presidential victory over run-off candidate Ahmad Shafiq, the former Prime Minister of Egypt.
'Like a soap opera'
"This is not the revolution we wanted, it's true," say Hussein.
"A lot of people are really scared this could be end of their career. But we also believe not much can stop us.
"The army has taken over and we don't think the president will really have any say on things. So there's no power to stop us."
But the group admits that it's still divided on what it could mean for them individually.
"I'm a girl," says Bosaina. "I'm not worried about the Muslim Brotherhood, more their followers.
"I don't want anyone to cover me, I've already been kicked off stage for not wearing enough clothes. I don't want to get lashes.
"Our music is very satirical at the moment because of the uncertainty. The way things are right now it's a joke, it's like a soap opera."