Kristen Stewart top Forbes list of highest-paid actresses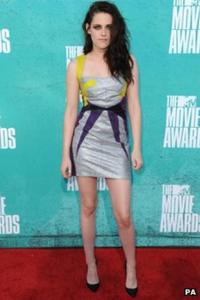 Kristen Stewart has jumped to the top of Forbes's annual list of highest-paid actresses.
The 22-year-old Twilight star earned an estimated $34.5 million (£22m) from May 2011 to May this year and pushed Angelina Jolie into fourth place.
Cameron Diaz, who had a surprise hit with Bad Teacher, came in second with $34 million (£21m).
Forbes magazine bases earnings on pay, profits, endorsements and advertising work and by talking to agents.
"Kristen Stewart is an up-and-coming star," said Dorothy Pomerantz, Forbes Los Angeles bureau chief.
"She is earning a lot of money from one of the most successful franchises of all time. This is who you would expect to see right now.
"This year you are seeing somebody young and at the brink of potentially great stardom sitting on the top of the list."
Oscar-winner Sandra Bullock, who largely took a break from filming after 2009's The Blind Side, came third with $25 million (£16m).
Angelina Jolie, who topped last year's list along with Sarah Jessica Parker, dropped to fourth spot with earnings of $20 million (£13m).
Charlize Theron, Kristen Stewart's co-star in Snow White and the Huntsman, trailed in at fifth with $18 million (£11m).
Salary parity
Parker, whose 2011 film I Don't Know How She Does It brought in a disappointing $30 million (£19m) at the worldwide box office, slipped to seventh place with a $15 million (£9m) salary.
"She is almost earning more from her perfume and endorsement deals right now than from entertainment," Pomerantz said.
"That is true of a lot of women. They have these outside deals that are very lucrative.
"Angelina Jolie earns a lot from residuals, as does Sarah Jessica Parker."
Former Friends star Jennifer Anniston just made the list, earning an $11 million (£7m) salary.
The top 10 actresses earned a total of $200 million (£127m), according to Forbes.com, a lot less than the $361 million (£229m) total that the 10 highest-earning men made.
"It is nowhere near what men are making," Pomerantz said.
"I think it will be a while until women see salary parity, if it ever happens.
"Women are paid less in every industry, not just in Hollywood."
In April Kristen Stewart was voted the world's best dressed woman by Glamour magazine.
She also topped a Forbes list of Hollywood's most bankable actors in December.