Pendulum have no plans for a new album or live shows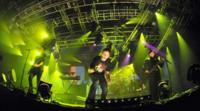 The drum and bass trio, Pendulum, have announced that they will be no further live shows and have no plans for any future albums in 2013.
In the last 10 years, the band have released three albums but founder Rob Swire has said he will now concentrate on his side project Knife Party.
They are widely known for their extravagant live shows.
Their record label, Mercury, refused to comment and would not confirm or deny the rumours of a split.
Rob Swire has been touring the world with other Pendulum member Gareth McGrillen as Knife Party.
He also tweeted that he was "relieved everything is out in the open now, band-wise".
He added: "Wow, everyone loves things more when they're gone, I guess."
Speaking to Newsbeat last year, Gareth McGrillen said the band members had been working on other things.
He said: "With the Pendulum thing, we could do another album, we've got a lot of ideas and we've got a lot of stuff ready, but we just kind of want to force ourselves to take a break for a little while so we don't go mental."
However, he did not rule out a return.
"The great thing about Pendulum is we've all got our own things going on but then we all come together, sort of.
"It's like a hub, you connect all the docks to the hub, and it happens."