Newsbeat's guide to... the G20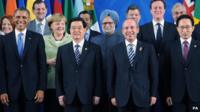 World leaders say even more needs to be done to solve the financial problems in the eurozone.
G20 leaders are meeting in Mexico as politicians in Greece, who support tough spending cuts in return for a bailout, try to form a new government.
Countries that use the euro as currency have been told they must work harder and quicker to fix their debt problems.
What is the G20?
The Group of Twenty (G20) is made up of 19 of the world's largest economies plus a representative from the European Union.
Meetings are held once a year in the country of the then president of the group.
The first meeting, or summit, took place in US capital Washington DC in November 2008. The idea was originally proposed by former Canadian Prime Minister Paul Martin.
Finance ministers usually meet around the world although G20 leaders sometimes take part instead.
The UK hosted its last summit in 2009.
Russia is due to host the next one in Saint Petersburg in September 2013 followed by Australia and Turkey.
What does the G20 talk about?
The G20 talks about the the most important financial and economic issues of the day.
Since 2010 that has mainly been the recession being felt by most regions of the world.
Other topics talked about include improving food security in poor regions and sustainable development.
The organisation has three objectives.
The first is to coordinate policy between its members to achieve global economic stability and promote sustainable growth.
The second is to promote financial regulations that reduce risks and prevent future financial crises.
The third is to create new ways of carrying out international deals and financial transactions - or the global financial architecture as it's known.
Which countries are members of the G20?
The G20 represents more than 85% of the world's economy and includes the UK, US, Canada, Mexico, Germany, France, Italy plus a representative from the EU.
Indonesia, Saudi Arabia, Turkey, Australia, South Africa, South Korea, Japan, China, India, Brazil, Argentina and Russia are also members.
Other countries can be invited to take part in summits and membership does not exactly match the largest economies in the world.
The G20 was originally known as the G33 and was set up after the Asian financial crisis in 1999 to talk about international co-operation among finance ministers and central bankers.
There are often arguments among the members involved as they try to look after the interests of their own countries.