Chris Brown injured in nightclub fight in New York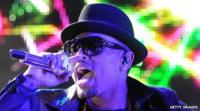 Music star Chris Brown was injured in a nightclub fight, according to reports in the US.
The New York Police Department have confirmed to Newsbeat they are investigating a fight at a venue in the Soho area of the city.
It is believed Drake was also at the nightclub. Detectives did want to talk to him but he refused.
Officers were called to the Work In Progress (WIP) club at 4.08am on Thursday 14 June.
A representative for Drake said the star was on his way out of the club when a fight began.
Eight people were taken to hospital and treated for minor injuries.
New York Police Department Lieutenant John Grimple said it started as Chris Brown was arguing with five men in the middle of the dance floor: "That led to people throwing bottles at that group.
"You know when glasses are hurled across the room it becomes a dangerous situation."
Hours after the call out, Brown posted a picture on his official Twitter account displaying a cut on his chin.
The singer tweeted with the message: "Throwing bottles like girls? #shameonya!"
The image and other tweets have since been removed.
Detectives confirmed they tried to speak to Drake and he refused. They are now in contact with his legal team.
It's not clear what prompted the fight. Both singers at one time dated Rihanna.
Chris Brown, 23, is on probation after being found guilty of attacking the singer in February 2009.