Rihanna, Ed Sheeran preview Radio 1's Hackney Weekend
21 June 2012

From the section

Music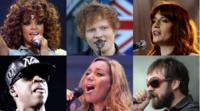 More than 100 artists will perform across six stages at BBC Radio 1's Hackney Weekend this Saturday and Sunday (23 and 24 June).
Rihanna, Jay-Z, Ed Sheeran, Jessie J and Kasabian are among the stars who'll perform in front of 100,000 fans who applied for free tickets.
The event, held on Hackney Marshes, is part of the 2012 Festival.
Leona Lewis - Saturday (Main stage)
"I'm opening so I've got to put on a bloody good show.
"I used to sing at the Hackney Empire, when I was 13 I won a singing competition there and that fuelled me to keep going.
"I'm really looking forward to Plan B. I'm really inspired by him. And Jay-Z. I'm hoping that it's going to be awesome."
Ed Sheeran - Saturday (Main stage)
"Hackney has been revitalised during the Olympics.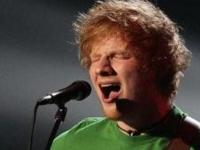 "I used to go to college in Bromley-by-Bow. While I was going to college that whole area was being transformed.
"It's good that they've put money into that area. Having Jay-Z headline a festival in Hackney is quite big.
"I'm excited to see him there. I've seen Rihanna a couple of times but I've never seen Jay-Z play live before."
Rihanna - Sunday (Main stage)
"There's no competition with Jay-Z - I can't wait to see his show. I love watching Jay-Z.
"The show is definitely going to be different. It has to be different. For one, the crowd is different.
"It's all about having fun. I just want to party on stage - that's what I'd like to do.
"I like to laugh and feed off the energy of the crowd. That always translates."
Chase & Status - Sunday (In New Music We Trust stage)
"Hackney is a really cool, artistic, vibrant, young area. The line-up is mind-blowingly huge.
"We've got lots of friends playing there as well. It's always a special event.
"The Big Weekend is something really close to our heart because it's the place we did our first ever live show.
"I've recently moved from west London to the east. I'm very excited to potentially walk home."
Example - Saturday (Main stage)
"It's going to be an historic event. I can't wait to get out there.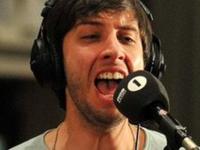 "All my mates are on the line-up - people like Wretch 32, Professor Green, Chase & Status and Tinie Tempah.
"Jay-Z's playing. Everyone wants to see Jay-Z because he's just legendary.
"I've looked in my diary and I've got that whole weekend off so I will be staying there to watch everyone both days if I can. I might even camp backstage."
Florence and the Machine - Sunday (Main stage)
"It'll be really fun actually.
"I think lots of the other artists that are playing are amazing.
"And it's a festival and I love a festival.
"It's nice to do it at home because I live in London."
Kasabian - Saturday (Main stage)
"I cannot wait. We've played a few of the Radio 1 things and they're just fantastic.
"The atmosphere always goes off.
"We go on before Jay-Z so that'll be interesting. Hopefully he'll come and have a look at the boys - I think he'd dig it.
"There will be a place there on the side of the stage if he wants it."
Lostprophets - Saturday (In New Music We Trust stage)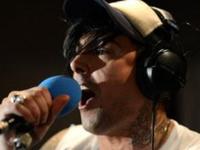 "We feel privileged and honoured to be asked to do it and be considered to do it. The line-up is fantastic.
"We're kind of like the cat among the pigeons.
"We've got this underdog mentality - we feel like we're over in the corner scowling at people.
"It's not because we're rude it's just like we never feel like we fit in.
"That's always given us a little bit of fire [for these type of shows]."
Wretch 32 - Sunday (1Xtra arena)
"Jay-Z, Emeli Sande, Leona Lewis, Example, Rita Ora, Tinie Tempah - I'm going to watch as much of that show as I possibly can.
"Any surprises tend to happen on the day so no-one ever really knows before.
"Everyone pretends that it was planned but it wasn't.
"You just bump into someone in the back and it's like, 'What time are you leaving? Do you want to come out and do this? Can you learn it?' You never know."
Coverage of Hackney Weekend will be on BBC Three, BBC Radio 1, BBC Radio 1Xtra and online.