Green Day reveal exact release dates for triple album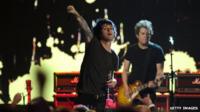 Green Day have revealed the exact worldwide release dates for their new triple album, ¡Uno!, ¡Dos! and ¡Tré!
The first part is out in the UK on 24 September with the next two available on 12 November and 14 January 2013.
It is the first new material from the US punk rock band since 2009's 21st Century Breakdown.
The band have no festival appearances planned for the UK although they are appearing in mainland Europe this summer.
Green Day's American Idiot show is set to tour the country in October.
The Broadway musical will visit Southampton, Cardiff, Edinburgh, Glasgow, Manchester, Birmingham and London.