Slipknot name new compilation album Antennas To Hell
12 June 2012

From the section

Music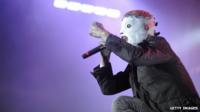 Slipknot have unveiled the artwork and tracklisting for the 19 songs on their new "best of" record.
It will be the band's first release since the death of Paul Gray in 2010.
Antennas To Hell is due out on 24 July and includes singles from their last four studio albums and live tracks.
"I think every song Slipknot has written is a greatest hit but there are only four records," said percussionist Shawn Crahan. "It all falls together the way it needs to."
Crahan, 42, said the band would be stepping away from the spotlight after playing a series of summer festivals, including their own Knotfest in August.
He said band members needed to go through the healing process and then start work on a new record.
He said the lyrics were already being written for the next album.
Following bassist Paul Gray's death from an accidental overdose in 2010 there was speculation about the band's future.
'Feel comfortable'
Shawn Crahan said there was never any doubt that Slipknot would carry on.
"We as a band have never decided to go away," he told Reuters.
"We've never even talked about it. It's not even a question.
"The only question was how long it was going to take each individual member to accept what's happened and feel comfortable with moving on in the record area."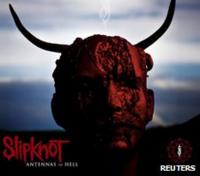 The Iowa band has eight members - Crahan and Chris Fehn on percussion, lead singer Corey Taylor, Sid Wilson on turntables, guitarists Jim Root and Mick Thomson, Craig "133" Jones on sampling and drummer Joey Jordison.
They have sold more than 20 million records and won a Grammy music award in 2006.
Meanwhile, lead singer Corey Taylor revealed on his Twitter feed that the new Stone Sour album would be a two-part double concept album called House of Gold and Bones (HoGaB), parts 1 and 2.
Part 1 will be released in October with the second part out next year.
He said: "Once I lock in the company who will help me put it together, there will be a comic book as well.
"Song titles include Absolute Zero, RU486, A Rumor of Skin and Taciturn.
"Very excited for everyone to hear it. Stay tuned."