Woman who fell off balcony in Magaluf 'can't get home'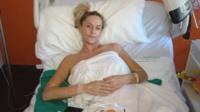 The woman who fell 24 metres (80ft) from a balcony in Majorca says she doesn't know how she'll get home.
Chantelle Serginson from Middlesbrough suffered a brain haemorrhage, a collapsed lung, multiple breaks in both legs and lost many of her front teeth after the fall in Magaluf last month.
The 24-year-old's insurance company has refused to pay out.
She told Newsbeat she's been advised not to name the firm because she plans to challenge the decision.
She's been in Hospital Son Espases in Majorca's main city Palma having multiple operations.
The one this week is to reposition her jaw which was fractured in the fall.
"I feel like I'm a cat with nine lives," she says. "I feel so lucky to be alive."
A British Foreign and Commonwealth Office (FCO) spokesperson said: "We are aware of the hospitalisation a British National, Chantelle Louise Serginson, in Mallorca, Spain on 25 May.
"We have been providing consular assistance to the British National and the family."
'Dangerous'
Chantelle was on holiday with her mum and her friend when she fell off a balcony trying to get her necklace.
She'd been spending the day dancing around the hotel pool.
She says: "I think what happened to me should go out as a warning to everyone, to keep away from the balconies as they are really dangerous."
Chantelle's accident came after three deaths from falls in three weeks in Magaluf.
Despite not knowing how she will get back to the UK, she's relieved about her treatment.
"I'll need rehab but I should be OK in a few months which is a miracle really.
"Because I had that EHIC card I didn't have to pay for the ambulance and stuff."
A European Health Insurance Card (EHIC) lets you get health care cheaper or free in most of Europe.
It doesn't cover many things like air ambulances and the Foreign Office advise getting travel insurance in addition to an EHIC card.
Chantelle says she had only had two drinks when the accident happened in the early evening and is worried about how she'll get home to Middlesbrough.
"I'm going to need three seats however I get back there on whatever transport," she admits.
"It's going to be expensive but at least I have the chance to go back. For that I know I'm so lucky."