Miley Cyrus and Liam Hemsworth announce engagement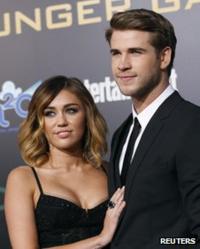 Liam Hemsworth has proposed to his girlfriend Miley Cyrus, with the pair announcing their engagement on Twitter.
The actor, 22, started dating the former Disney star while they were filming The Last Song in 2009.
"Thank you for all the support. We are both very happy," said Hemsworth.
Cyrus, 19, tweeted: "I'm so happy to be engaged and look forward to a life of happiness with @LiamHemsworth!!! I feel like all my dreams are coming true. Life is beautiful."
Australian Liam Hemsworth, who plays Gale in The Hunger Games, said the engagement ring was "hand-cut around 1880 or 1890 and it's unique and in its original form".
"It's a contemporary design based on vintage aesthetics," he added. "The light flashes and sparkles no matter where she moves her hand."
Miley Cyrus made her name appearing in the Hannah Montana TV series before launching her singing career in 2008 with the album Breakout.
Her father, Achy Breaky Heart star Billy Ray Cyrus, also starred in Hannah Montana and said he was over the moon after hearing the news.
"All I ever hoped for as a Daddy was to see my kids reach their dreams," he told celebrity website HollywoodLife.com.
"To find happiness, peace of mind and someday know - true love."
Fellow teen actress and X Factor USA judge Demi Lovato, who made her name in Camp Rock, congratulated the pair on Twitter
She said: "Congrats and happiness to you both. Love you."
Liam Hemsworth made his name in Australian soap series Neighbours playing the part of Josh Taylor.
He has two brothers - Luke, who also starred in Neighbours and Chris, who played Thor in The Avengers and also appeared in Star Trek as Lieutenant Commander George Kirk.
No wedding date has been announced yet.