Labrinth to work with Cheryl Cole on new music project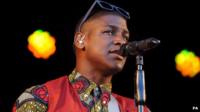 Labrinth has revealed that he's been in the studio with US stars Usher and Busta Rhymes.
The singer/songwriter, who's signed to Simon Cowell's label, also said that Cheryl Cole had been in touch about working on music together.
"She tried to get me in trouble with her fans on Twitter. She tried to say I didn't call her back," joked the 23-year-old.
"But she had the wrong number, so that might happen."
Labrinth released his debut album Electronic Earth earlier this year. It reached number two in the charts.
"I felt like it's been a long wait," said the London-born star. I literally go in the studio and music falls out my head.
"I'll do like three songs in a day, it's wild."
Labrinth, who's also produced hits for Jessie J and Tinie Tempah, acknowledges that not all fans enjoyed the album as a complete body of work.
"I'm not selling items. I am selling my creativity and things that I'm into.
"That's why I wanted it to be that diverse because it's basically saying this is me, whole-heartedly, warts and all."
Express Yourself, his fourth single, is out this week.
Previous single Last Time got to number four in the singles' chart, while the one before that, Earthquake, went to number two.
"I could have made 10 Earthquakes," said the singer. "It would have been easier but that's boring for me man."
Labrinth is currently taking part in Radio 1's Hackney Weekend, which is part of the London 2012 Festival.