Mumford & Sons second album out in September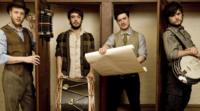 Mumford & Sons have revealed that their new album will be out on 24 September.
Talking to Belgian radio station Studio Brussel at the Pinkpop festival in the Netherlands, Ben Lovett said the album had just been completed.
"We finished the record this week so we are going to be able to get it out in September - we just figured that out - 24 September."
It'll be the first album since the London band's debut, Sigh No More, which came out in October 2009.
Ben said the record - which was part-recorded in his home - represented a gentle progression for the four-piece: "There are similarities [to Sigh No More]. Nothing's really changed in our dynamic as a band.
"We write songs together and they're very much based on experiences, the instruments are pretty much the same.
"[But] we've thrown in a few extra things we've picked up along the way. For the most part it's just a bit of a progression."
Earlier this month the country band told Zane Lowe that the album wouldn't contain any "tricks" or gimmicks.
Ben also told Studio Brussel that live-wise the band were in a transition period, mixing the 12 tracks of Sign No More with some of their new songs.
Their debut was a big hit on both sides of the Atlantic and the band recently spoke to Newsbeat about the 'festival' they're putting on, the Gentlemen of the Road tour.
Taking in Huddersfield (2 June) and Galway (9 June) it features Mumford themselves and other hand-picked acts taking over venues in the towns for a day of live music.