Transgender Against Me! singer makes debut in San Diego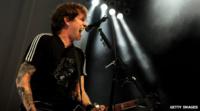 The lead singer of American punk rock band Against Me! has made her live debut on stage as a woman.
Tom Gabel revealed plans to start living as a female last month after coming out as transgender.
She now takes the name Laura Jane Grace after admitting to secretly dealing with gender dysphoria for years.
Laura Grace played a 40-minute set in San Diego as a support act for The Cult with her band playing six new songs, including Transgender Dysphoria Blues.
She told Rolling Stone after the concert: "I was worried that some people expected me to come out looking like Little Bo Peep or something."
Fans cheered when Grace sang Against Me! track The Ocean, which contains the line, "If I could have chosen/I would have been born a woman."
Gender dysphoria is a condition where a person feels they're trapped inside a body of the wrong sex.
Grace has now started the physical transition process by taking hormones and undergoing electrolysis, which involves redistribution of muscle tissue.
The 31-year-old singer plans to remain married to artist wife Heather.