Eminem 'starting to toy' with first new album since 2010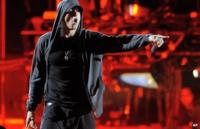 Eminem has confirmed that he's started work on his next album.
He told American radio station Hot 97FM that it was in the early stages. "I'm kind of getting into my next record a little bit," he said.
The rapper, speaking on the phone, said he was "starting to toy" with the next album, which will be his first since 2010's Recovery.
He also told DJ Peter Rosenberg that he'd been busy working with hip hop group Slaughterhouse.
Eminem is executive producer on the quartet's upcoming second album, after they signed to his Shady Records label last year.
The Detroit rapper was the biggest selling artist of the 2000s in America, with more than 32 million album sales.
His most recent high-profile performance was at the Coachella festival in April where he performed alongside the likes of Dr Dre.