Cameras trialled in cars to help cut insurance for young
Young drivers are being given a new way of cutting the cost of car insurance.
A 15% discount, worth hundreds of pounds in many cases, is being offered to motorists under 25 years old willing to fit cameras inside their cars.
The insurance industry says it will help cut fraud and make it easier to prove exactly what happened if a car is involved in a crash.
But critics say insuring under-25s is still too expensive and the industry needs to do more.
Mike Bruce, 22, runs his own company and drives hundreds of miles around Dorset in his car every week.
Despite having a clean licence and no claims it still costs him thousands of pounds to get insured.
"I pay around £2,500 every year," he said. "It's ridiculous.
"If you think about it I've spent £5,000 over the past two years and have got nothing to show for it."
'A lot of money'
The idea of putting cameras in cars is not new and they are often used in lorries and emergency vehicles.
But now a deal has been done with an insurance broker to give younger motorists 15% off if they fit the cameras in their cars.
Kieran Thomas works for camera supplier ChilliBongo.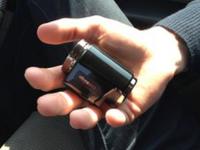 "It's a tiny HD camcorder," he said. "[It] fits in the palm of your hand, attaches to the windscreen or the dashboard and away you go.
"Embedded on the footage you've got your three g-force readings - so your natural, vertical and horizontal.
"You've got which recording mode it's in. It tells you if the microphone is on or off and gives you the date and time as well."
Mike tried the camera out in his car.
"The camera is a lot of money, it's £250," he said.
"It only faces forwards so what happens if someone crashes into the side of me or into the back of me?
"It won't record that footage.
"But it does fit in the car quite nicely and looks small and fairly discreet."
Despite the price tag, Mike says it would save him money in the long-term so he would be willing to give it a try.
Bogus claims
Graham Trudgill, who works for the British Insurance Brokers Association (Biba) says cameras in cars would help stop so-called "cash for crash" claims.
That could help bring prices down.
"They (cameras in cars) can prove that that young driver is a better driver.
"They can help cut out problems with fraudulent claims and therefore they should warrant a cheaper premium.
Critics say the insurance industry still isn't doing enough to cut prices.
Edmund King from the AA says premiums for younger drivers have gone up 39% in the last two years.
"Car insurance is just so incredibly expensive that many of them can't afford to get on the road," he said.
"So really a lot more needs to be done."