Rihanna film Battleship flops at US box office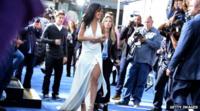 Battleship, Rihanna's latest film, has overtaken John Carter as the worst ever US opening box office flop compared to the size of its budget.
The naval war film, which sees the singer in her first major role, cost $209 million (£133m) to make but only took $25.3 million (£16m) in its first weekend.
The Dictator also didn't do as well as expected for its first weekend in the US.
Both films lost out to The Avengers.
The comic superhero film is still number one at the box office in America.
Male audience
In Battleship, 24-year-old Rihanna, plays a tough naval petty officer and although the singer appears a lot in the film, she never says more than one line at a time.
According to market research firm CinemaScore the movie has struggled to attract young movie-goers.
Fifty-five percent of its audience were at least 30 years old, according to CinemaScore and men accounted for 57% of ticket sales.
The film now overtakes notorious box office flop John Carter, starring Taylor Kitsch, as having the worst domestic opening in the US made with a budget of at least $200 million (£126m). Taylor Kitsch is also in Battleship.
Next weekend is the Memorial Day holiday in the US with Universal hoping that will help boost sales.
Battleship has so far earned $226.8 million (£143m) overseas, which could help the movie to recover from its disappointing opening in the States.