Scissor Sisters announce UK and Ireland tour dates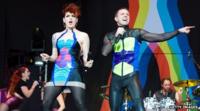 Scissor Sisters have announced a tour of the UK and Ireland.
The band will promote their new album Magic Hour with eight shows in October this year.
The run will start in Dublin and take in cities including Glasgow, London and Portsmouth.
Magic Hour, which will be released in the UK on 28 May, features collaborations with Diplo, Pharrell Williams and Calvin Harris.
The band posted on Facebook: "We are positively thrilled to announce a new UK tour. So many of you have asked for one, we just had to oblige."
Tickets go on sale on 24 May.