Your views: Nearly 88,000 racism cases in British schools
Nearly 88,000 cases of racism have been recorded in schools across the country over the last four years.
That's according to figures seen by the BBC's Asian Network.
They suggest that the amount of abuse has gone up on average by 10% since 2007.
The government says the figures are down to teachers recording every single case although that rule has now been relaxed.
Birmingham recorded the highest number of incidents at 5,752, followed by Leeds with 4,690. Carmarthenshire had the lowest number with five cases.
A racist incident is defined as any situation perceived to be racist by the victim or any other person.
It can be anything from name-calling to physical abuse.
Like the Newsbeat Facebook and have your say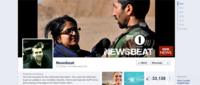 Kirsty Barker - In school a mixed-race boy was saying racist things about himself as a joke. He got sent out of the class.
Neil MacLennan - It's figures like this that shake us into trying to sort it, and we need to sort it - these kids will be in charge one day.
Mirali Patel - It's hard when you're younger and all you want is to just fit in, you don't want to be different. Now I'm older, I accept that I am different which also makes me less sensitive towards it.
Rebecca Bond - I went to a school where there was one black family. They didn't receive any abuse, physical or mental, the school and community ethos is what dictates behaviour.
Emma Harrow - Well I am mixed-race and can tell you that every one is as bad as each other. Asians, Somalis, black people - all can pull the race card. It's not just white people.
Lee Cunliffe - It's not just racism, my 13-year-old daughter gets abused at times because her mum died six years ago. Kids are cruel, evil and vindictive to each other at times.
Michael Brown - It's amazing how racism is overlooked when it is directed at white people.
Simon Rees - Kids will call other kids names because they wear glasses or have ginger hair, or any other feature that can be used to insult them, skin colour or ethnicity is no different, but to brand a child a racist for name-calling is a very difficult path to tread and we need to be very careful to get the balance right.