MPs want change to smear test age limit for young women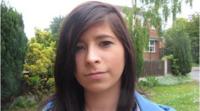 The government is facing claims that it is risking the lives of women under 25 in England by not giving them cervical smear tests.
Two MPs, Lib Dem Andrew George and Tory Mark Spencer, back a campaign for the screening system to be reviewed.
A mother who lost her daughter, Mercedes Curnow, to cervical cancer has led a petition calling for the screening age to be lowered to 20.
That is in line with the rules in Scotland and Wales.
It has been signed by more than 120,000 people.
People who signed the petition have been protesting outside the Houses of Parliament this week.
Kayleigh Cheel, 23, was a friend of Mercedes.
She said: "To know that in Wales and Scotland girls of our age can have smear tests and we can't - it's disgusting."
Early detection
Twenty-two-year-old Natalie Carney has cervical cancer and wants the age limit lowered too.
She was diagnosed with the disease in February but her symptoms were only picked up after several doctors appointments, when she was referred to a specialist.
She says that if the cancer had been detected earlier, she wouldn't have needed so much treatment.
"It felt like that's it," she said. "I'm 22 years old and I'm having a hysterectomy. That is what old ladies have."
The latest data from Cancer Research shows that cervical cancer in under-25s is rare.
In 2010, 45 women aged between 20 and 24 were diagnosed with cervical cancer in England, according to the Office for National Statistics (ONS).
Doctor Adeola Olaitan is a consultant gynaecologist from University College London (UCL).
She says that there is good clinical evidence to suggest that cervical screening should not be lowered to the age of 20.
"There is more potential if you are screened at that age to do more harm than good, such as leading to problems with having children later on," she said.
She says there are three main symptoms to look out for but in the vast majority of cases these won't be cancer.
"Anyone that has bleeding after sex, bleeding in between periods or a smelly vaginal discharge should see their GP so that it [cervical cancer] is excluded," she explained.
"If you are concerned and you go to your GP with these symptoms, I think it's valid to ask to be referred to be a specialist."