Hollie Avil: I quit Olympics over eating disorder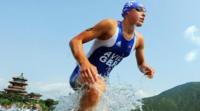 Hollie Avil is a former triathlon World and European champion, who also competed in the 2008 Olympics, but - at 22 - she's just announced she's quitting the sport.
The Northampton-born athlete also intended to be at London 2012 but says that an eating disorder and depression meant she no longer enjoyed the training and competing.
Newsbeat spoke to Hollie to find out more about how her illness affected her life.
How did your eating disorder come about?
"It happened in 2007 after a coach made a comment about my weight and the fact that if I wanted to run quicker and do better in triathlon I'd have to lose some weight.
"I lost up to 10kg (22lbs), I was hardly eating at all. I reduced to just salad and fruit and wasn't getting any nutrients."
Being an athlete you're obviously pushing your body so hard and your body needs energy. It must have been incredibly difficult?
"An eating disorder takes a lot of willpower. It controls your life and you have to battle hunger all the time.
"You're constantly hungry, especially when you have to do all the miles that triathletes have to do.
"I was diagnosed with depression in February this year. I was in a really really low place.
How do you feel now with the Olympics happening in a couple of months' time?
"To be honest, it seems so right in my gut to stop the sport and I'm so excited to go down to London to watch the games.
"I've got lots of friends competing and I'm happy to be on the sidelines."
Some people may say that you've got to have a tough skin in sport - do you think you've left too early?
"To be honest I've had the thought to leave the sport for the past two years. I realise health and happiness is the most important thing.
"People may say you shouldn't have given up at 22, but that's my decision. I do care for my health and my happiness."
What about your future? Would you like to help other people who've gone through a similar thing to you?
"Definitely. My dream would be to set up a charity to help young female and male athletes to get through eating disorders because I don't want to see others having to stop the sport because of one.
"I guess I wish I never developed an eating disorder, maybe I'd still be in the sport today."