Jessie J defends problems on BBC talent show The Voice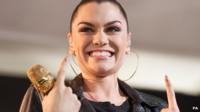 Jessie J has defended technical problems and falling ratings on BBC talent show The Voice.
The 24-year-old singer is one of the four judges on the series but was forced to stop a live performance last Saturday (19 May) after her ear-piece failed to work.
She thinks viewers want real life, not a heavily-edited programme.
"Bring on the criticism," she said. "Welcome to the real life of the industry. Things go wrong."
Ratings for The Voice - also featuring judges will.i.am, Danny O'Donoghue and Sir Tom Jones - have been falling in recent weeks.
Negatives
On Saturday night it went up against Chelsea's match against Bayern Munich in the Champions League final pulling in just over five and a half million viewers, its worst figures so far.
Seven weeks ago 12 million people watched an episode of the show.
Host Holly Willoughby also had to apologise after one of Jessie J's contestants swore.
But the Domino singer says she prefers to concentrate on the positives.
"There's always going to be the handful of people that want to look at the negatives," she said.
"But there are also millions of people looking at the positives saying that this is one of the best talent shows they've seen on TV and it is. That's what I focus on.
"If you spend every day focussing on the handfuls of people that are trying to rip you down, then you won't be the person you need to be in life.
"That's exactly the same for the show.
'More captivating'
"They're focussing on the people that do want to tune in that don't want to rip the show apart. High five to that.
"Life's about focussing on the masses that want to support you, not the few that want to rip you down."
Jessie J spoke to Newsbeat while announcing her first UK arena tour next year.
She says The Voice should be given time to grow but revealed she hasn't signed up for a second series yet.
"It's the first time the UK has taken this format from the rest of the world and put it into action here," she said.
"There are definitely things that will be looked at for series two, in a good way, to make it better and more captivating.
"Sadly you can't test a TV show without doing it live. There are things that can always be more exciting and worked on.
"But the show's been amazing considering it's the first series."
The final of The Voice takes place on 2 June with the results the following night.