Plan B backs plan to give out free ear-plugs at concerts
22 May 2012

From the section

Health
Plan B says he wants to encourage music fans to wear ear-plugs at live music events.
The rapper and singer would like to make people more aware of the damage they could do to their hearing.
The 28-year-old admitted he suffered from tinnitus, where there is a constant ringing tone or noise in the ear.
It is estimated the condition affects almost 500,000 people in the UK and is caused by exposure to loud noises.
Plan B recalls when he first became aware of it.
"I've been in clubs, in the DJ booth, and just felt my ears going," he said.
"It was so loud and I thought, 'This ain't good.'"
He said he knew something was wrong after he left the venue and he could still hear a "screeching sound".
"So I had tinnitus for a while," he said.
"I went and saw a ear specialist and got some ear plugs. It's all right now and I don't need them all the time but if you are a DJ or you produce, if you have the music loud you are damaging your ears."
No cure
In extreme cases tinnitus can last for an indefinite period of time, although often the noise in the ear can disappear or reduce in volume with time.
There is no cure for tinnitus.
Treatment can involve inserting a small microphone or speaker into the ear canal.
Different tones are then generated causing the brain to focus on these new sounds and in time the constant ringing or unpleasant noise is phased out.
Leona Lewis and Labrinth also support the idea of concert and festival venues providing ear-plugs for fans.
"Safety is more important than enjoyment," said Labrinth.
"I have always been careful of that [tinnitus]. I remember I left a club one night and my ear was ringing the whole of the next day and I was so scared."
Free ear plugs
Josephine Swinhoe runs a clinic treating tinnitus sufferers.
"If you're in any environment where you have to speak loudly in order to make yourself heard, it's too loud," she said.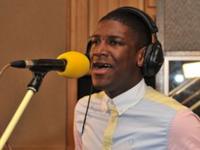 "Wear ear defence products. Even the little foam ones are a good idea."
Most venues in the UK do operate within strict environmental pollution restrictions.
The British Tinnitus Association (BTA) advises anyone who thinks they have symptoms of the condition to visit their GP.
The charity says it would also like to see music fans supplied with ear-plugs when they enter a gig.
That is an idea Plan B says he is keen on.
"There should be a bucket of ear-plugs there and it's their choice then," he said.
"Especially the guys at the front. They give out water, so why not ear-plugs."