We Are Young band Fun 'carrying torch for rock music'
23 May 2012

From the section

Music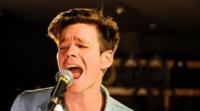 In the past few years there have been endless reports about the demise of in rock music.
Indeed, if statistical proof was needed, earlier this year Fun's track We Are Young became the first 'rock' song to top the US Billboard top 200 for four years.
It's gone on to become the biggest-selling song of the year there with 4.4 million copies.
"That's probably the biggest accomplishment for us to see," says lead singer Nate Reuss.
"We're just happy that it feels like for a song that I would have never thought personally made it onto the pop charts and dominate the way that it has."
Along with Gotye's Somebody I Used To Know and One Direction's What Makes You Beautiful it's also one of the most played tracks on American radio in 2012.
It's now sold more than 300,000 copies in the UK and is at number two in the official singles chart.
'Rock' band
Despite We Are Young's pop leanings, the band, signed to the same record label as Paramore (Fueled By Ramen), say they categorise themselves as a rock band.
Asked how they feel about representing rock in the charts, guitarist Jack Antonoff says he's "the proudest".
"It's our favourite genre of music and we still think it's the hippest even though it goes through changes and gets messed around."
Reuss adds: "We just hope we can help carry a torch. We try not to let it affect us in any sort of way."
Long journey
Fun may be a new band to some but all three members of the group have been chasing dreams of hitting the big time for almost a decade.
Lead singer Nate Reuss, from New York, was in The Format until 2008. He then brought Antonoff and Andrew Dost into the fold to create Fun.
"I don't think we ever talked about this scale because it was never even a specific goal," says Jack, reflecting on their success.
"We always wanted this but we always thought we'd be a live band that toured and was the biggest band that no-one ever knew.
"It's nice to realise childhood dreams even though you've made peace with them not happening."
Glee boost
A huge boost arrived when We Are Young was used in Glee and then featured in a commercial shown during the Super Bowl.
Reuss says the band recognise the opportunities of having their music in adverts.
"You have to be particular," he says. "We say no to so many different things.
"A lot of things went right for us. If you do it you have to own up to what you do. You can't spend your time apologising for decisions you make."
'Dream' collaboration
As they release their second album Some Nights in the UK this week they're already looking to the future and some possible collaborations.
"Kanye [West] would pretty much be the one," says Reuss. "Just continuing to move forward, I think someone like Skrillex is someone we couldn't deny in any sort of way.
"I think it would work. Whether he's rock 'n' roll or not he's someone who is helping make another style and another form of art.
Jack adds: "He's more rock 'n' roll than a lot of things people call rock 'n' roll these days.
"If you saw Skrillex live and you saw Queen live in 1975 it would feel a lot more exciting than a lot of the indie rock around. It's big, exciting, emotional."
Fun's album Some Nights is out now.