Could Jedward actually win the Eurovision for Ireland?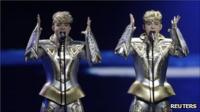 Jedward came eighth in last years Eurovision but this year the boys are back in town and determined to bring home the crown.
They face competition from the UK entry Engelbert 'The Hump' Humperdinck.
TV presenter Graham Norton has given his backing to the twins saying "they will do well."
This is the second time that Jedward will appear in the competition. They will sing their song Waterline.
The boys will also ditch their familiar spiky hair and perform underneath a waterfall in the show which is being staged in Baku, the capital of Azerbaijan.
Jedward will perform Waterline while Engelbert Humperdinck will sing Love Will Set You Free
Could Jedward really win?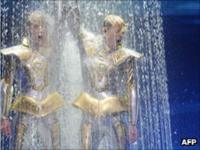 Jedward have been a huge hit in Europe over the last year and have even sold more singles than last year's winning act Ell and Nikki. Jedward have done lots of touring in Europe over the last year and have fans in Hungary, Germany, Estonia, Latvia. If they all vote Jedward could stand a really good chance.
Why are Jedward in the semi-finals while 'The Hump' isn't?
There are so many countries competing in the Eurovision that they had to introduce semi-finals in 2004. Despite Jedward beating UK entrant boy band Blue in last year's contest they have to enter the semi-finals. France, Italy, Spain, Germany and the UK automatically qualify as they contribute the most money to the competition and Azerbaijan go straight through because they won last year.
Can Ireland afford the Eurovision if they win?
The Eurovision can cost up to 30 million euros (£24m) to host and with the current financial situation in Ireland they will probably go for a more basic show if they win.
Can the UK vote in the semi-finals?
Sort of. Although there are two semi-finals, UK viewers can only vote in the second Semi-Final on 24th May. So you won't be able to vote in tonight's show.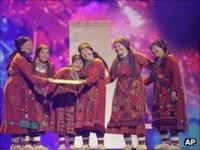 Who should we keep an eye on?
Definitely look out for Loreen from Sweden, she is the favourite to win the competition. Jedward and Engelbert Humperdinck may also do well. For comedy value look out for Buranovskiye Babushki, six Russian grannies who will be performing a dance song "Party for Everyone."
Who is hosting Eurovision?
The contest is taking place in Baku, the capital of Azerbaijan. The President of Azerbaijan Ilham Aliyev was criticised over it's human rights record in a BBC Panorama programme Eurovision's Dirty Secret
Graham Norton will present the live commentary on Saturday night and Radio 1 presenters Scott Mills and Sara Cox will host the semi-finals on BBC3.
The Eurovision semi-finals will be broadcast on BBC3 on 22nd and 24th May. The live final will be shown on BBC1 on 26th May.