Greek crisis: Can British tourists take advantage?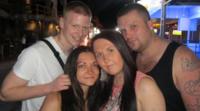 Political and financial uncertainty in Greece is threatening to force the country to leave the euro.
It's causing fears over the break-up of the eurozone and another global credit crunch.
But in recent weeks the pound has hit a three-year high against the euro, with tourists able to get more for their money.
Newsbeat went to Faliraki to find out whether British holidaymakers are taking advantage of the Greek crisis.
'Cheap'
Despite it being early season, bars there are trying to entice customers with free shots and drinks offers.
Hollie Feller, 20, from Kent, is there with her boyfriend Chris Kay, 25.
"Saturday night was a blur," she says. "We can't even remember what time we got in.
"Our holiday cost £350 for 10 days. It's all-inclusive although the hotel's a bit rubbish."
Nubila Youhn, who works in HR in London, got an even better deal.
"It was £130 for seven nights. That was flights and accommodation.
"Fortunately we're taking advantage of the bad economy here to come on holiday. You can feel it because everything is so cheap."
'Suffering'
None of Greece's political parties got a majority in the recent elections and instability is making eurozone economies weak.
Tourists can now get around 1.22 euros for £1.
Sean Tipton from travel association Abta said tourists should be taking advantage of this but some were put off by the unrest.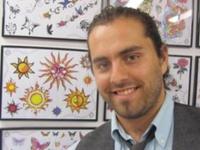 "This is probably the best time there's ever been to go to Greece because the euro is weak against the pound and getting weaker," he said.
"Tour operators' prices haven't moved that drastically but it's when you get there that it's so much cheaper."
Horamis Fotis, who manages a tattoo parlour, says he's lowered his prices slightly but it's made no difference.
He said: "They still spend the same as they did before - not more."
'Disaster'
Bar owner George Karagiannis says he's not sure whether the strong pound will have a positive effect on his business.
"If this was any other year I would say it would help, but this year, I don't know," he admitted.
Greece's huge debts mean the country has to rely on international loans, which are dependent on deep austerity measures.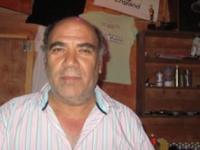 The main fear for many is that Greece may have to return to the drachma.
This would make it even cheaper for tourists in the short term but the knock-on effect for UK trade would be deeply damaging.
George hopes his country will elect a "pro-euro" government when Greeks return to the polls in June.
"Going back to the drachma would be the biggest disaster ever," he said.
"If we have to pay our debt in drachmas I tell you we'd need a 100 years to pay it back. It's not gonna happen."