Emma Thompson pens Annie script for Willow Smith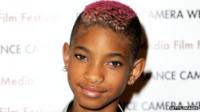 Emma Thompson has confirmed she is writing a new, modern version of the musical Annie.
Will Smith is producing the movie as a vehicle to star his 11-year-old daughter Willow Smith, while Jay-Z is in charge of the music and will write new tracks for the musical.
"I think it's a very good combination," Emma Thompson said.
"We're looking for directors so the management will come up with a director in the next week or two weeks."
Last year Glee creator Ryan Murphy was rumoured to be in the frame as a possible director.
"Then I'll do some work with them and we're hoping to shoot next year, so I'm very excited," she added.
Modern Annie
The most enduring vision of Annie comes from the 1982 film version that starred Albert Finney as Daddy Warbucks and Aileen Quinn as the young orphan from the title.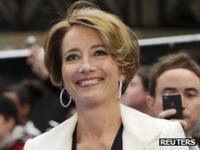 Emma Thompson confirmed again that Willow Smith was set to play a new Annie when filming starts in 2013 before adding "that's if she doesn't get too tall".
The film will be set in modern-day New York with a selection of new songs added.
"That was what was so great about it," Thompson said. "Some songs nobody liked so I ditched them."
She couldn't remember the names of the axed songs but when asked if Tomorrow was safe, Thompson said "that's in, weirdly".
Thompson stars alongside Will Smith in Men in Black 3 but the pair met on an earlier film project.
"I know Will from before because I did a little bit on I Am Legend with him and we got on very well."
The Oscar-winning actress and screenwriter did joke that she was "so modern" to be working with Jay-Z and the Smith family.
"I hope you like it, it should be really really great," she ended.