Sir Richard Branson calls on banks to lend more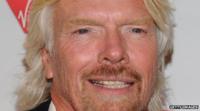 Sir Richard Branson has called for more lending from banks to help young people in the jobs market.
The Virgin boss spoke to Newsbeat as the latest unemployment figures revealed that more than one million 16 to 24-year-olds were still out of work.
He is launching a project giving unemployed young people a chance to put on a festival at the Royal Opera House.
He gave Newsbeat his tips for starting a business and said those struggling should stay positive.
Sir Richard, whose Virgin empire started in 1970 and includes dozens of businesses, says it's vital that young people are given the chance to try out their ideas.
"There are lots of wonderful projects from young people and it is these new ideas and new entrepreneurs that create the jobs of the future."
"There's no question that there needs to be more lending from the banks."
Sir Richard thinks banks should be more willing to lend small amounts to get ideas off the ground.
"With Virgin, originally my mum found a necklace, handed it in to a police station and after six months they gave her the necklace back and it was worth £200.
"Literally, Virgin was born on that £200 loan. Very large empires can be started on very small sums of money."
'Find an upside'
The latest figures show unemployment among 16 to 24-year-olds fell by 17,000 over the latest quarter to 1.02 million.
But that still means one in five young people is out of work.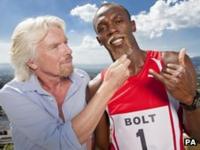 The businessman says he's been trying to get politicians to try new ways of lending.
"[Don't] just give student loans to go to university," says the Virgin boss.
"But if someone has a great idea maybe turn that into an entrepreneurial loan so they can get their business going.
"The government set aside £10m to start that - and that's a step in the right direction."
His advice for young entrepreneurs is to be bold and make sure their idea improves someone's life.
"That's basically what business is all about," says the 61-year-old.
For those out of work, Sir Richard says a positive mental attitude is vital.
"Try to make the best of it," he says. "Get out there, get fit, get healthy.
"Just try to find an upside to every downside.
"If you're fit and healthy you're more likely to be positive and you're more likely to get a job anyway."
Despite the UK falling back into recession, Sir Richard says he's known tougher times and reckons it can also be a chance for smart people.
"I've seen a number of recessions, but during recessions are opportunities - everything costs a lot less and you can start you business from a lower cost base and do well."