Chris Moyles lands stage role in Jesus Christ Superstar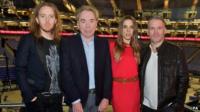 Chris Moyles is to play King Herod in stage musical Jesus Christ Superstar.
The casting will see the Radio 1 breakfast show host making his debut in the Andrew Lloyd Webber production, which will tour arenas later this year.
Also in the cast will be former Spice Girl Mel C, 38, and comedian and musician Tim Minchin.
Lord Lloyd-Webber will be searching for a star to play Jesus in an ITV1 show called Superstar, which starts later this year.
Chris Moyles said: "To receive a phone call from Andrew is very cool, but then when he asks you to be in his musical that's pretty amazing and there is only one thing to respond with - and that is yes.
"My mum's gonna be well excited."
The 38-year-old has previously sung on ITV's X Factor: Battle Of The Stars.
He also released his own album of cover versions in 2009, which made the top 20, and has appeared in TV shows like Chris Moyles' Quiz Night and The Love Machine.
'Bloody excited'
The tour starts at London's O2 Arena on 21 September.
It will see Mel C as Mary Magdalene, with Minchin, who wrote the music for Matilda, playing Judas Iscariot.
Lord Lloyd-Webber, who wrote Superstar with Sir Tim Rice, said: "Tim and I have always wanted to take Superstar back to its roots.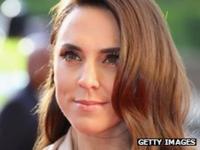 "We are both delighted that it will finally play an arena tour in the UK in venues where many of the world's great rock acts have gone before."
Tim Minchin, 36, said: "As a huge fan of Jesus Christ Superstar, I've always thought it needed three key things: a big cast and band; loads of volume; and me playing Judas.
"I've been in two small productions of the show, and understudied the big man both times.
"I am really bloody excited about this."
Meanwhile, there's speculation about Chris Moyles' future as breakfast show host at Radio 1.
In an interview with the Guardian in February, the station's controller Ben Cooper admitted the need to attract younger listeners but wouldn't be drawn on Moyles' future.
"That is a private and confidential issue, but he has got a contract with Radio 1," he said.
"Whether it's breakfast or Radio 1, that is for me to know. Chris and I have talked about it and that's something that will stay between me and him."
The DJ signed a deal to stay at the station until New Year 2014 last year.
The tour will call at:
London O2 Arena - 21 September
Glasgow SECC - 25
Newcastle Metro Radio Arena - 28
Manchester Arena - 30
Cardiff Motorpoint - 2 October
Birmingham NIA - 4
Belfast Odyssey - 9
Liverpool Echo Arena - 16
Nottingham Capital FM Arena - 19
Sheffield Motorpoint - 21
Tickets will go on sale on Friday (18 May) with the reissued album due out on 16 July.