Diablo III developers investigate gamers' bug reports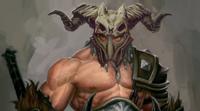 Gamers have discovered a bug in the eagerly anticipated Diablo III which they say throws them out of the system.
It comes after servers crashed under the weight of players trying to log in online after the game's release on Monday night (14 May).
There were so many complaints #error37 was trending on Twitter.
The game's developer Blizzard Entertainment has said it is aware of the bug and is working to fix it.
'Game breaking'
Diablo III comes more than a decade after the release of the previous instalment of the dungeon role-playing game.
Blizzard, which also makes World of Warcraft, was forced to take down its websites temporarily and add more servers to cope with demand.
And now players have reported a game breaking bug that means they are disconnected when they give a shield to a character known as the Templar follower.
Blizzard said: "We're aware of this issue and working to resolve it as quickly as possible. Thank you all for your reports."
It has asked customers to go through a login before starting to play the game in an attempt to tackle piracy.
But some were unhappy with how long it took.
One Twitter user posted: "Man, Diablo III is super hard. I've been playing for 30 minutes and haven't even defeated the login screen."
Blizzard released a statement online shortly afterwards, saying: "Please note that due to a high volume of traffic, login and character creation may be slower than normal.
"We've temporarily taken our Battle.net websites offline and launched more servers to accommodate for the traffic. We hope to resolve these issues as soon as possible and appreciate your patience."
The company announced later on Tuesday that the servers and websites were up and running again.