Modelling agency backs Vogue's healthy body image drive
15 May 2012

From the section

Health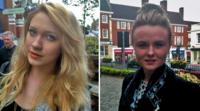 One of the UK's biggest modelling agencies says it supports a campaign by Vogue to promote healthy body image.
All 19 editions of the magazine have signed up to a pact which says they won't knowingly use any models who are under 16 or who look like they could have an eating disorder.
"Vogue is the most influential fashion magazine in the world," said editor of the UK edition, Alexandra Shulman.
"Whatever we do will have an influence."
The pact is being backed by Elite Model Management.
They say the whole industry needs to get behind it to make a difference.
Read the full interview with UK editor of Vogue magazine, Alexandra Shulman
'Catty industry'
Claire Bodie and Emma Rawlinson are both 18.
Claire is still modelling as a freelancer and says she has never had any problems with her weight in the industry but Emma quit.
"All the shoots I've done, the models will have a break and sit around smoking and drinking coffee saying they're not going to eat," said Emma.
"I'd be sitting there thinking I'm so hungry.
"When no-one else is eating you don't want to.
"It is a very catty industry and you know that if you eat in front of the other models they are just going to be outright nasty to you about it."
She says the agency she was signed to at the time asked her to lose weight.
'Skinny'
"The big agencies need to get on board too now," Emma added.
"When I look at some of the girls on their websites, whether they claim they're naturally skinny or not, it doesn't always look right.
"I'd like to say this would make a difference but from my experience I don't know whether it will.
"This stuff has come up before. Fashion modelling is specifically skinny and that won't change."
Emma says she was wearing a UK size six.
"They were just telling me that I should eat certain things," she said.
"They said I had to come to London every week to see if I had put on weight or lost weight. It was just way too much."
Both girls say they don't believe the pact by Vogue will change the industry.
"It's all very well Vogue putting this in their magazine," said Claire.
Past Vogue cover-girls include Cheryl Cole, Victoria Beckham and Adele.