Ashleigh and her dog Pudsey win Britain's Got Talent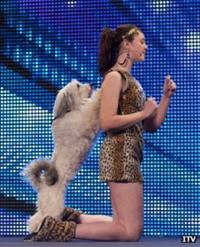 The winner of this year's Britain's Got Talent says she is still in shock.
Ashleigh Butler, 17, and her dog Pudsey beat the bookies favourites, singers Charlotte and Jonathan to win the talent show.
Pudsey and Ashleigh performed a dance routine to the Mission Impossible theme.
The teenager from Northampton will now get the chance to perform with her pet at the Royal Variety Performance in front of the Queen.
She explained how she planned to spend the £500,000 prize money.
"First of all I will get Pudsey a new lead because we actually lost his backstage," she said. "I'll get him a bed too or whatever he wants."
What was it like to win?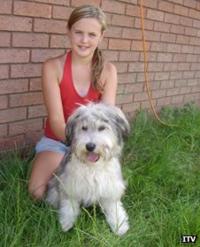 "The whole series I thought Charlotte and Jonathan were going to win it. I was preparing myself to jump on them and congratulate them.
"It was just a massive shock to me. The last 24 hours have been very tiring but very exciting; I have had about three hours sleep."
Do you think it's fair a dog won Britain's Got Talent?
"The final was phenomenal. The acts were all so brilliant in their own unique categories. I couldn't believe I was performing and thought everyone was so brilliant.
"When I'm learning a new routine I spend about an hour with Pudsey going through the routine, practicing bits he's not sure at.
"I need to spend another hour practicing on my own and seeing what I can improve."
There's been a lot of competition between Britain's Got Talent and The Voice have you felt the pressure?
"No, I have just been going out there and doing my best. You can't ever do anything better than that.
"I've watched snippets of the voice but I've not really been following it."
What has Simon Cowell said to you?
"He was just lovely, he said he was really happy for me. He had a quick picture with Pudsey and a hug as well.
"He told me I that I have really grown as a person during the competition and he was just really nice."
How do you feel about performing in front of the Queen?
"It's amazing. It didn't really sink in that I would be performing for the Queen until I was having my photo taken with some random person.
"I'm so honoured and it's going to be an amazing experience, especially in the Jubilee year. Maybe I and Pudsey could help her corgies learn a trick or two."
What's next for you and Pudsey?
"It's been a dream of mine to have my own business for film work for dogs or animals.
"It's a massive dream of mine to invest in that. First thing though I have an AS exam on Friday, I haven't done much revision for that yet."