'I'm using YouTube to help bring change to Syria'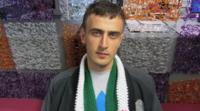 Ahmed el Khalaf, 22, has been to Syria to witness the ongoing conflict between government forces and opposition rebels.
Many of his videos have been uploaded to YouTube and he says he wants to raise awareness of what's going on in the country so that more pressure is put on President Assad.
Ahmed says about 80 relatives of his have died in the conflict.
Rebels in the country are calling for more democracy and freedom, but the government claims they are terrorists. The UN says around 9,000 have died in the 14-month conflict.
On Thursday (10 May) two car-bombs killed more than 50 people and wounded nearly 400 in Damascus.
The government and the opposition blamed each other for the attack.
"It's terrifying for the people," he said. "You feel for them, you feel for the women and children.
"Random shelling will just take place at any time."
After spending time in Syria recently, Ahmed - who was born in Iraq but raised in London - says he hates the government.
"Any Assad thug could do anything and get away with it - bust in a house, ruin it, burn it, steal, rape or anything - and he could get away with it.
"I've only been there two months. There are people who have been there since the beginning and there are people who have died for it.
"They are my heroes, the people there living these dreadful situations, horrifying situations.
"You know, someone's daughter's been killed or raped, someone's son has been killed, someone's cousin."
'Smuggled in'
Ahmed, who works as an engineer, was smuggled into the country and embedded with opposition groups in Idlib province.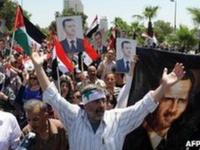 He denies the regime's claims that the rebels are "terrorists" and says he believes the real terrorists are the Syrian government.
Ahmed says he witnessed some shocking things during his time there: "There's a video I uploaded of a bomb shell that killed about 12 people.
"There's a mum crying and she's holding a hand - just a hand - her son's hand."
The 22-year-old is planning to return to Syria, the birth place of his parents, to record more videos and he's hoping his work can make people realise how serious things are.
"What I'm doing now is informing people, this is what's happening.
"This will hopefully put more pressure on governments to put pressure on the Assad regime, rather than just talk."