Bioshock Infinite game delayed until February 2013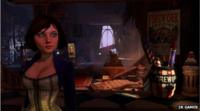 Bioshock Infinite has been put back from an October 2012 release to February 2013.
Writing on their website, Irrational Games said they wanted to get the title as good as they could before unveiling it.
Irrational's creative director, Ken Levine, said: "Specific tweaks and improvements will make Infinite into something even more extraordinary."
The original Bioshock first person shooter sold four million copies.
"The great can be made greater, and we owe it to both ourselves and to you, our fans, to take this opportunity," said Ken Levine.
He also added that the game wouldn't be previewed at the high-profile E3 video games trade show in Los Angeles next month.
The game is set in 1912 and sees the game's main character, Booker DeWitt, sent to rescue a woman called Elizabeth from the sky city of Columbia.
The plot revolves around the pair having to escape as the city collapses.
Bioshock Infinite is destined for PlayStation 3, Xbox 360 and PC.
The change in release date will also give the game a bit of breathing space from other much-hyped games due out at the end of 2012.
Halo 4, Call of Duty Black Ops 2 and Rockstar Games' Grand Theft Auto 5 are all set for release in the last quarter of this year.